Making A Splash: We Chat To HARLEE, Your Next Favorite Artist
Get ready to hear 'Last Night' everywhere this summer!
You might not know HARLEE's name just yet, but I bet you've heard her voice. Last year, Joel Corry's 'Lonely' raced to the top of the charts, and the distinctive, breathy singer featured? HARLEE, of course.
Back then, she went uncredited - but now, she's ready to step into the spotlight. Collabing with DJ Digital Farm Animals, she's just released 'Last Night', an upbeat, party banger - it's inspired by messy nights out, so it's just aching to be played on a dancefloor. On 21st June, expect to hear this one when you head back to the clubs!
We caught up with HARLEE and Digital Farm Animals to find out more about the inspiration behind 'Last Night', and what's next for the self-described 'songbird'!
What was it like working together on the new single - could you walk us through the collaboration process, and what helped to inspire 'Last Night'?
HARLEE: I've worked with Digital Farm Animals before, but during lockdown we got together for Last Night. He sent me the idea, and we finished it pretty quickly over Zoom.
It was amazing to work with him - I think he's so talented. He's an amazing writer and producer, and I'm definitely up for more!
DIGITAL FARM ANIMALS: My aim when writing Last Night was to make a feel-good banger that will carry us all out of lockdown and into an amazing summer. It's inspired by those messy nights out and the morning afters when you can't believe what you got up to or what someone said to you the night before…
I knew I needed a powerful vocalist on the track and I love HARLEE's previous work, she's an incredible singer and songwriter. I sent her over the idea for Last Night and I'm really happy she got on board. We finished the song together and we're so excited that people are loving it so far!
What was it that really drew you to the song?
HARLEE: As soon as he sent me the idea the melodies and the rhythms were stuck in my head - the 'na-nas' were constantly going around in my mind. And I kind of thought it had to be a sign and, you know, I just wanted to be a part of it! It's such a fun, energetic, good-feeling song. I'm really glad to be a part of it, and it was a pleasure to finish it with him (Digital Farm Animals).
The last year must have been very different for you as a performing artist. How has it been working online and not being able to perform?
HARLEE: Lockdown has been hard - for everyone. And especially creative people. For me personally, I love being in a room with other people creating music. My ideas don't stem from being stuck on a computer, staring into a screen, alone. I feel like it's been quite lonely sometimes.
But I wouldn't have made the songs I've made if it wasn't for lockdown. I'm not completely against it - it's had its moments - and I've been able to grow as a person. I understand myself as a person and how I write a little bit more now. Feeling down in lockdown has given me the inspiration to write songs more honestly about mental health and how I feel.
Oh, and I signed a record deal in Lockdown too - on Zoom - so it's been a little bit mad!
DIGITAL FARM ANIMALS: The last year has obviously been really tough for musicians and hopefully we'll never have to go so long without live music again. I can't wait to get back to live sets really soon, but over lockdown I've been throwing myself into songwriting and producing. It was strange at first writing songs over Zoom but I'm grateful to have been a part of some amazing releases with wonderful artists. I hope everyone celebrates the end of lockdown by partying to Last Night and I can't wait for people to hear what's next!
Congratulations! How do you normally write your songs?
HARLEE: Sometimes I'll start with an idea or concept, but most of my songs come from - it's weird - really strong melodies or ideas that will pop into my head sometimes, often when I'm distracted. I'll be doing something completely random, and I'll just get this 'thing' pop into my head and I'm like 'mm, what's that? Get the phone out, voicenote.'
It's weird. One time I wrote this really good song with two of my friends - they're a duo called Kingdoms - and before I went into the session, I was in an uber and I got this idea in my head! It was a bit awkward because I was with the driver, but I had to get my phone out and very quietly record the idea!
It comes and goes in the weirdest ways - but writing weird songs is better than writing none!
Growing up, were there any artists/musicians that you took inspiration from?
HARLEE: I started listening to Amy Winehouse when I first started getting into music. I think her voice, her character - just the way that she was and the way that she wrote - was so inspiring. It was really honest, she said it how it is and it was real life for her. That's what I want to do with my songs - I want it to be from the heart.
Also Adele - I still love her, and I loved her back in the day! From Chasing Pavements to Someone Like You, she's just incredible.
I also used to listen to Nelly Furtado as well, because I really liked 'Like A Bird'. And then when she did more dance-y songs - like Promiscuous - that was so cool.
It's probably been more females that I've looked up to. I would copy them off the MTV screen, thinking 'Oh my God, I wanna learn that dance move!'. But I also love The Weeknd as well, I think he's great too.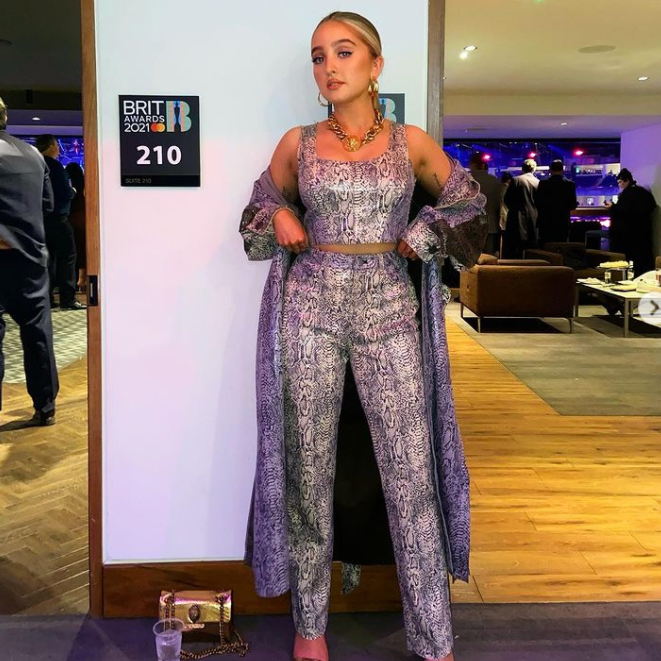 It's interesting you touch on female artists. Has being a woman been something that you feel has affected your career?
HARLEE: For me, it's not been too bad. If I was in a situation where I thought I wasn't being listened to, or misunderstood, or treated poorly - I would definitely stand up for myself. I'm one of those people that doesn't take any crap, basically.
But I've heard not very nice things about people in the industry, so I hope it does get better. I do think it's going to get better - being at the BRITs, there were so many females that were nominated and then won. It was just amazing and incredible. Dua (Lipa) said it in her speech, that she was so happy to win and that there were more females getting the chance to do the same thing!
Hopefully, things will start to return to normal soon. Do you have any big hopes, projects or things you're just looking forward to for this coming year?
HARLEE: Yes! I'm really looking forward to the performance side of things. It's been a very long time and I think people are really looking forward to going to events again, being with friends and living life to the fullest. So I'm really excited to get back to performing!
I'm also really excited to release my own music. I love doing collabs and I've really enjoyed it, but I can't wait to release my own material. It shows a side to me that people haven't seen before.
And when can we expect solo music? (If you can tell us!)
HARLEE: Definitely coming this year! Sooner than you think, maybe!
And just to finish off - for those who aren't familiar - how would you describe yourself?
HARLEE: I'd say I am fun, caring, down-to-earth and hopefully talented (in your eyes)! And just, you know, a good mate to have!
Thanks so much for chatting to us! You can find HARLEE on all social media platforms at @harleemusic