We Interview Irish Accessories Designer Liobhan Alanna
An explosion of perfectionist botanicals and wild animal kingdom in eco-silk scarves.
Hand-made and incredibly detailed, are just some of the sublime qualities of the elegant silk scarves crafted by Liobhan Alanna. With the launch of her new London-based brand, Liobhan designs accessories and fine-art prints of kaleidoscopic botanicals and mighty wild animals of the jungle, which are sure to transport you to the wilderness of the Amazon. Through assisting designers and working freelance for brands like Topshop, Oasis and Accessorize creating original prints, Liobhan has truly established herself in the industry. Spanning a career in textiles and illustrations for nearly a decade now, she has seen the true ins and outs of what goes on behind the scenes of the 'glamorous' fashion sector.
Her intricate designs and illustrations are spawned from her love for the environment. As despite being mesmerizing, Liobhan also uses eco-friendly textile and packaging materials, prints directly onto fabric to avoid water pollution, all while maintaining a local manufacturing relationship purely within the UK to minimize the carbon footprint. At Fizzy, we spoke to Liobhan about her international adventures, her creative process, her inspirations and accomplishments, as well as the story of what got her to the position of an entrepreneurial woman designer (which we have her amazing granny to thank!).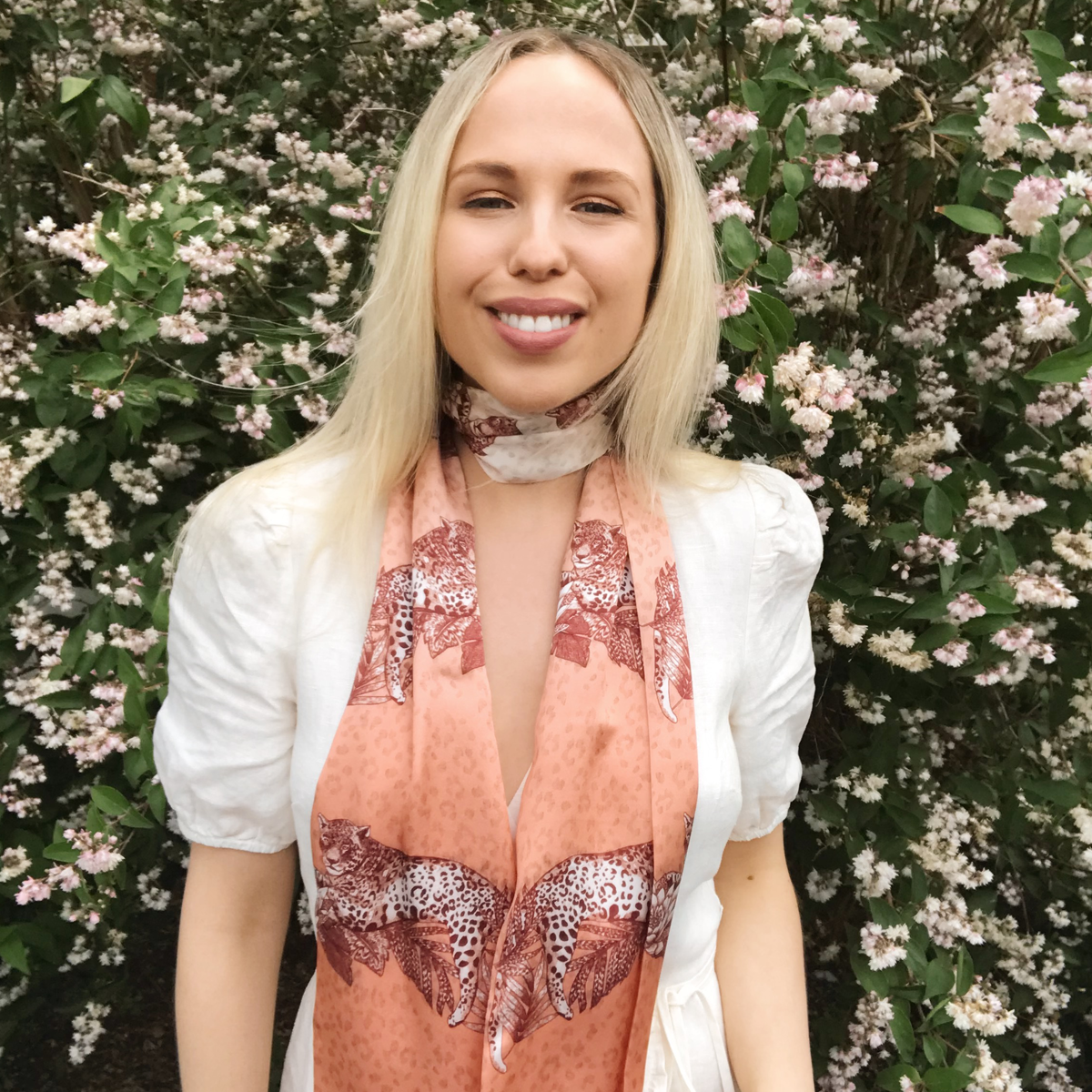 Liobhan, tell us a little bit about yourself…
I grew up in Dublin in Ireland, where I went to a small art school and I was interested in textile art/sculptures. After university, I started working as an assistant designer in a home textiles and design place in Dublin. But I really wanted to move to New York so I was looking at graduate visas - I felt a hungry want to go for this. So, I just applied for it, maybe after like a month or two of getting this new job. I felt really bad because I was gonna have to leave, but my boss was so supportive and told me to "go for it!". She'd actually worked in New York before, so she offered to help me find a job there through her connections. She helped me secure a paid assistant/intern role at this textile homeware company. That was an amazing year. I stayed a bit longer, but I felt it was time to come home. I loved being in New York, but the actual job was not that creative. There are so many different roles within textiles, and I always wanted to be doing the art part of it - but this role was more administrative and very technical, which I didn't enjoy as much. I was really disappointed to come home, and but it was for the best like in the end.
And so, then I started working in womenswear, where I was working for loads of different brands for about two years, doing print, much more creative and fun, and I really enjoyed that. And then I was like, "Okay, I need to move again". Looking back, I was so lost for so long. I wasn't sure if I was gonna do children's books? Like what am I gonna do? So, I moved to London to study MA Illustration at Camberwell College of Arts (UAL), where I just experimented with different things, which was quite challenging as well. But after, I wasn't really sure what to do next. I was like, "I really just want to launch my own thing". But I was still freelancing on the side, working on different ideas. When I turned thirty, I decided to start fresh. At the time, some of my freelance work dried up, so I decided that I'm just gonna put all my energy into this, and I launched a few months ago with my sustainable silk scarves and prints!
I noticed that obviously, the main focus kind of your brand is around fashion consciousness. When did you start pursuing a more sustainable initiative in fashion and your designs?
I think through working in the textile industry for so long and through working with loads of different brands, I know a little bit of what goes on behind the scenes and where things get made, and the fast pace of it. I was feeling like I want to do something a little bit different and work a bit more slowly. Particularly to know who my suppliers are, who I'm getting stuff made by and be able to trace, because I think it's just so important. So, it's just been through my own interest and getting my own education, and just researching. There are still things I want to do to improve, like different fabrics I might work with in the future. It's hard with textiles, because there's always going to be an impact, to a certain extent. So, it's just about doing the best you can.
You have also partnered with One Tree Planted, where for every item you sell, they will plant a tree in the Peru rainforest. How did you find out about this collaboration?
I think I was just researching. I wanted to do something to offset slightly some of the environmental damage created by so many fashion brands.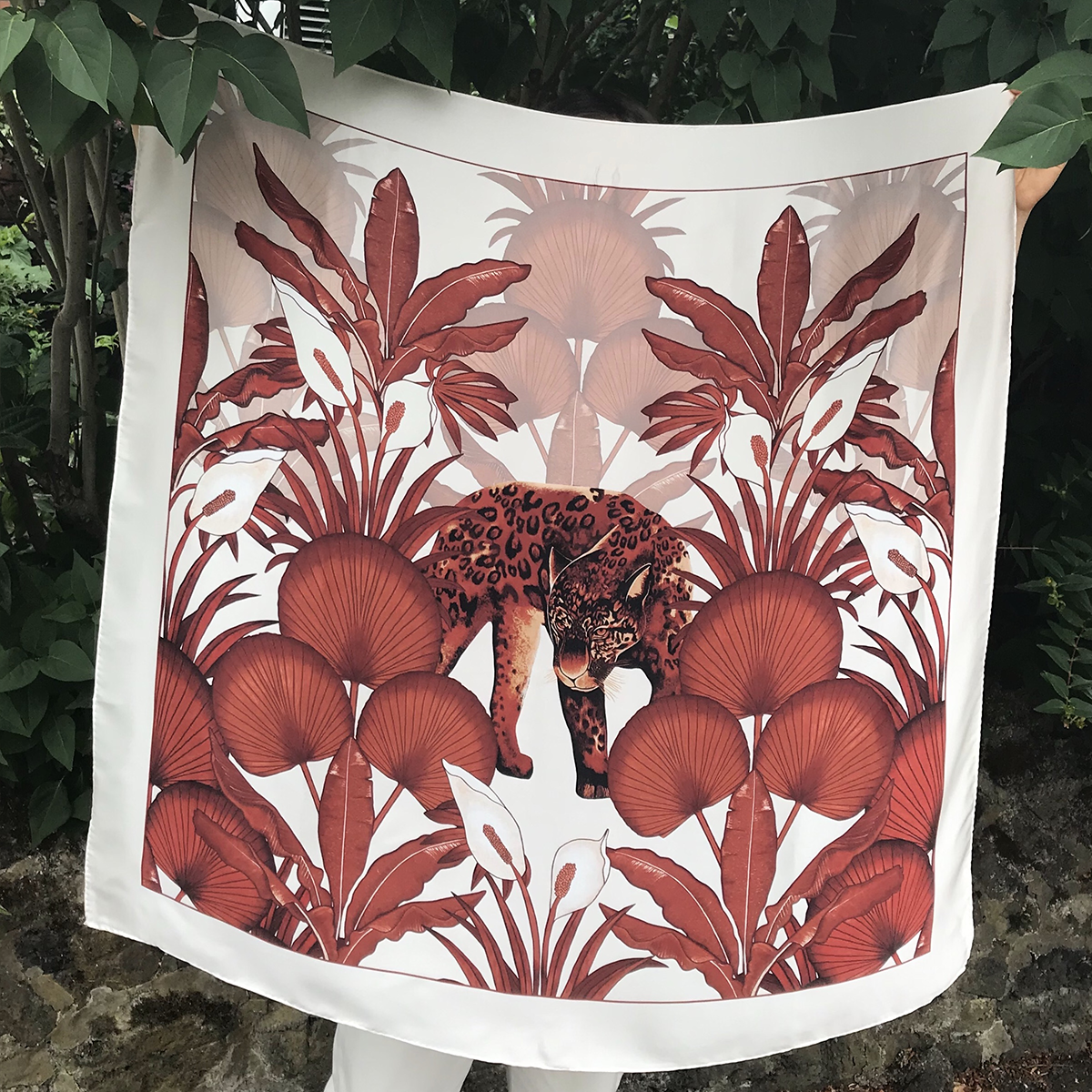 What made you want to begin a career in the creative industries? Particularly textiles?
I guess it's been like an on and off thing. I always loved really detailed drawings and decorative art, the arts and crafts movements and all the over the top kind of stuff. I think for a while, I felt embarrassed about that. I don't know why. But now I've just decided to embrace it. I'm not a minimal person, it's just not my brand, you know? There have been other things I've been interested in, like illustrating for children's books or other avenues, but it's always been very drawing-focused. I just keep coming back to it, even though I've tried to get away from it.
How has your creativity influenced your identity (and vice versa)?
I think it's just been a real outlet for me over the years. I struggled a lot in school, academically, and the school I went to was very academic. I just didn't connect with subjects like math or science at all. I think I was very anxious at times and drawing was just always something I could channel into, especially really detailed drawings, because they just take so long and you're so engrossed in it.
And vice versa?
I guess I'm quite perfectionistic, so I think that channels into my artwork sometimes and I can get really fixated on stuff.
How have certain moments in your life shaped the way you create?
Looking back, when I was in school, I struggled with pressures of exams, but I was also quite ill during parts of school - where I would miss a few months at times. I guess I would draw a lot because it was a way to deal with my life at the time. Even in New York, times were occasionally quite challenging, but I was always working on the next project. I guess it's been consistent always trying to do my own little projects on the side. It's been like my own little therapy – as cliché as that sounds.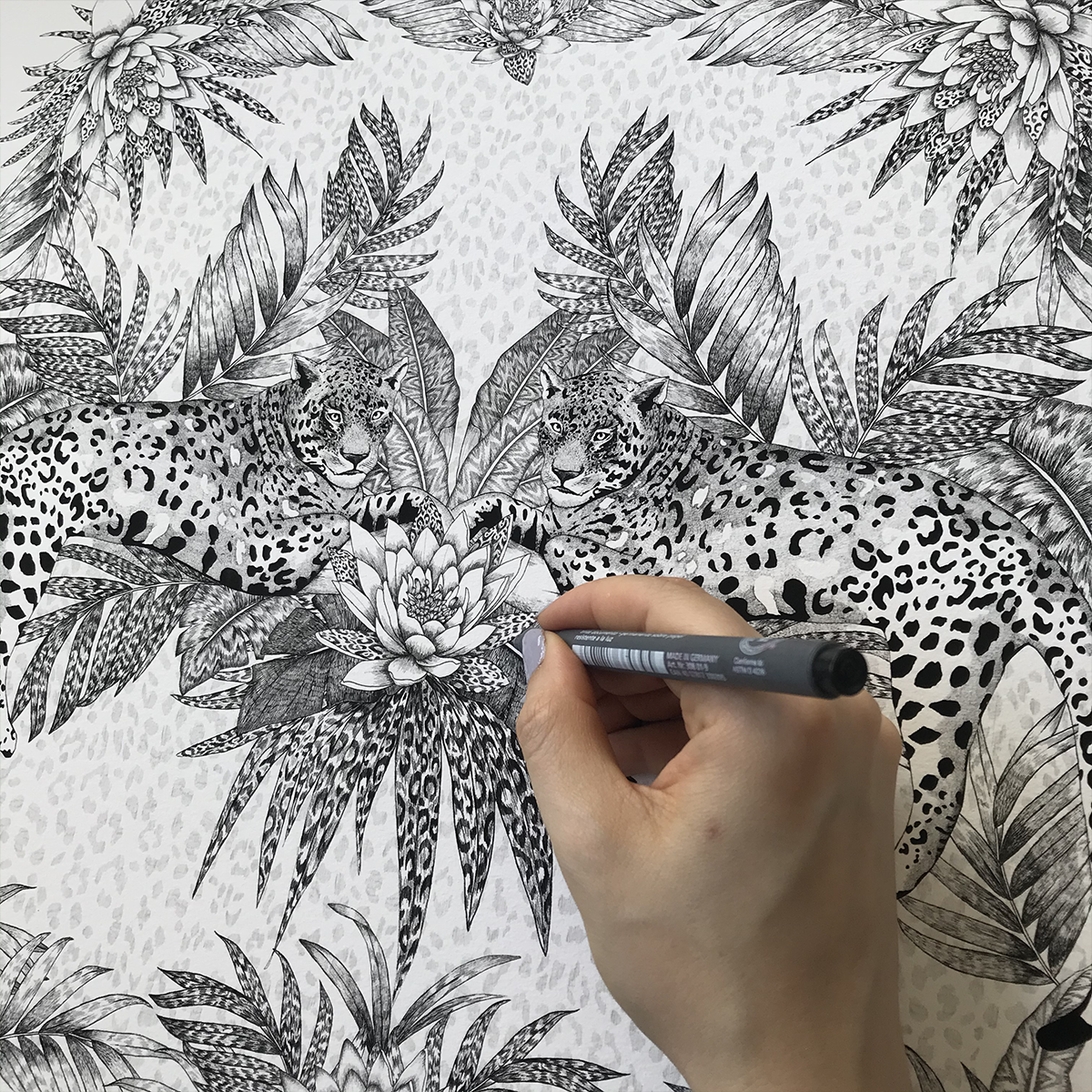 Speaking more about therapy - Has reflecting on your creative process revealed some unknown truths about your life?
I think it's made me realize that I struggled a lot with anxiety over the years which I has been channeled into very detailed drawings - bringing out my perfectionistic side potentially. I can see that in my work, and I've tried a lot of different things out there over the years, but then I come back to a more refined style. I guess I'm still developing.
I feel like no artist really fully discovers themselves - you keep growing, you keep learning, which it's just an amazing process, but then you also come back to your root.
Yeah, I remember this really funny story with my granny. She was obsessed with this flower drawing I did when I was five [literally haven't changed at all!]. It was a square page and I drew one of the flowers really close to the edge. So, instead of doing the whole flower I did like half a flower by the edge of the page. And my grandma was like, "that was just amazing! Every other child was trying to squash in a whole flower and you just did a half a flower!" It was so funny. Which is basically what you do when you're doing a repeat – like pottery. I was enchanted. That's something that really stuck with me over the years. And I think it's because my granny was a big influence on my life. She absolutely loved design and fashion, but she could never go to university, because that's just not how things were back then. She always wanted me to do this [design and fashion], because she couldn't.
You said your grandma was a big influence on you. Who (or what) else do you look for inspiration for your work?
I have a couple of friends that I like to have a catch up with - one of which is Katie Earley, who is a hat designer and has her own brand @earley_hats in Ireland. We like to catch up from time to time and chat about our creative process and what we're doing, try and inspire each other and keep going. I get really inspired by Elizabeth Gilbert's book, 'Big Magic' ($9.97), and Julia Cameron's 'The Artist's Way' ($5.95), which I always come back to when I'm feeling creatively blocked.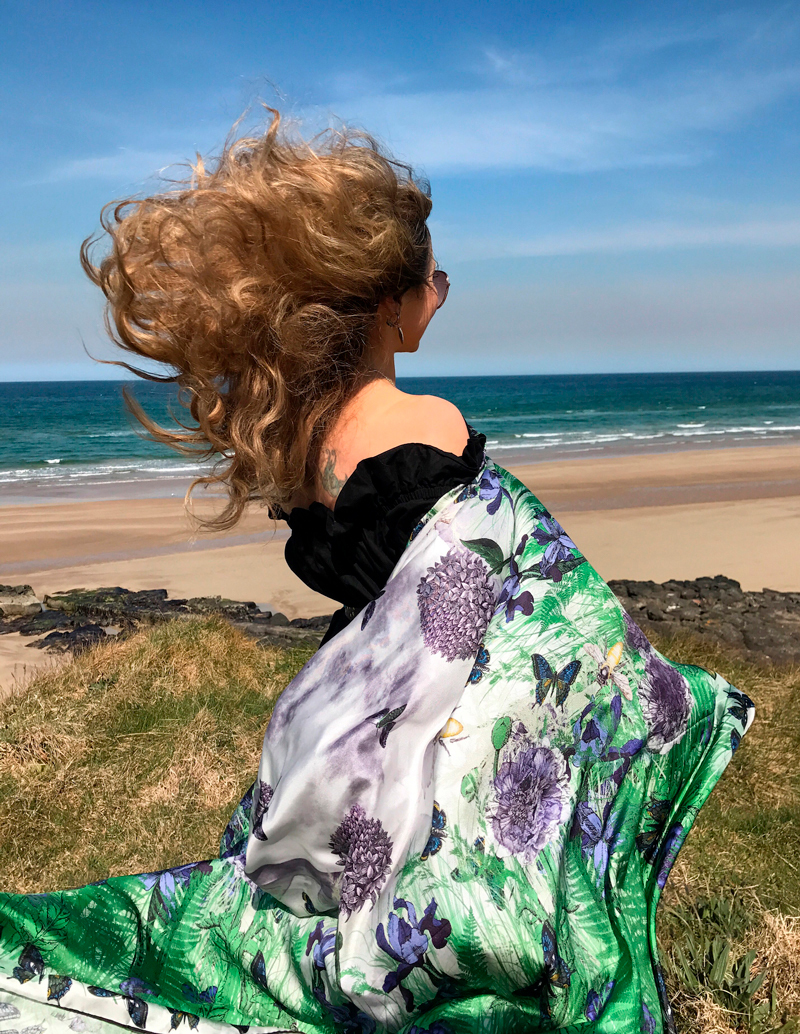 Any favorite artists?
I love Ernst Haeckel - he does very detailed botanical illustrations, kind of scientific. It's hard because I get inspired by so many different things, but then I try to not look at people that are doing similar things because I don't want to get 'accidentally influenced'. So sometimes I look at people's work that's completely different to mine to get inspiration as well, I like to mix it up.
Do you have any milestones?
Doing masters was a big milestone, but I think the biggest milestones have been moving to New York, then moving again to London, and studying the masters. And, then starting my own business. Hopefully there'll be a lot more to come!
And what gets your creative juices flowing?
Well, normally going to an exhibition, Kew Gardens or the V&A, they're my favorite places. But, obviously, I haven't been in a while because of the pandemic. I guess just anything - like watching documentaries. I'm also interested in loads of different things like outside of textiles, like just listening to like a podcast, or reading a book. I always listen to audiobooks when I'm doing a detailed drawing or things that are more repetitive.
What about creating drains you the most and how do you overcome it?
I think what's hard about creating sometimes or having your own creative business is all the admin. Those like little things that you don't think you're gonna have to do, like taxes. It's so funny because as much as I'm saying, "I'm perfectionistic about my drawings", but I'm so disorganized at the same time, I'm so scatty! Which really annoys me. I'll start writing in a journal, but then I'll start writing at the back, and then in the middle, nothing is in order! Suddenly, I try to find what I'm supposed to be doing and think, "where is that note?!". It's a nightmare, I need to improve.
Is there any advice you would like to give to young creatives about their future paths?
I think if you're in a creative job, and you look to the person above you and you don't want their job, I think it's time to move. I think that's one piece of advice. Another thing is - always keep something for yourself. A lot of the time creatives might get into a role that is creative or creative adjacent, but is not fulfilling to them. So, I think having something [a small project] that's just for themselves is really important and has been really important for me.
And I think, to realize that life is long. It might take a while to get to where you want to be, that's something I have to remind myself all the time. Just keep going. I do a lot of positive visualization of goals I want to achieve. Also, especially as women, we can be kind of afraid to just own what we want, even owning it to yourself is a great step one.
Check out her beautiful (and sustainably conscious) silk scarf and print collections here.
P.S.: With every purchase, Liobhan will plant a tree in the Amazon Rainforest of Peru!
Up Next: In Conversation With Berlin's Hottest Stylist, Theresa Gross