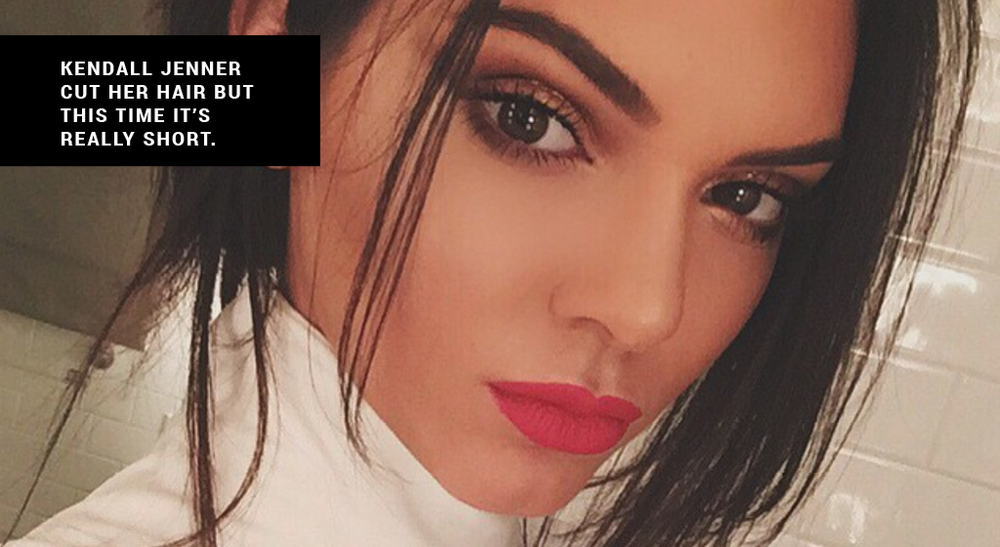 Kendall Jenner Got A Whole New Haircut! Again?
You can never go wrong with short hair. Especially when you have long hair for a long time and decide that it'€™s time for a change. Short hair makes you feel sexier and sassy with your look. This is for if you're a model, experimenting many hairstyles in photoshoots. Models like Kendall Jenner have embraced the short hair life and decided to take her hair to the next level, again.
Well, for starters, this has been a real changeable summer for celebrities in changing their hairstyles or doing something completely different. Celebrities like Selena Gomez got 6 inches cut off from her waistline, Ariana Grande got bangs and now Jenner cut her hair again but this time it's really short. If you follow her on Snapchat, the model snapchatted something last night of a work of art that'€™s made from her bestie, Cara Delevingne. However, a few weeks ago, she did get a lob haircut, but now it looks like she got it a little bit shorter. She was inspired by her bestie'€™s chop and asked her Hairstylist, Jen Atkin, to chop more hair off to complete her look.
Well, the Hairstylist did some multitasking by cutting Kendall'€™s hair and snapchatted the whole process. The first Instagram post hints viewers on who'€™s getting a haircut (we can tell who'€™s getting a haircut from them wearing a Robert Kardashian memorial tee.) The second post is a video of little chunks of hair falling on the floor in slow motion from Atkin chopping the hair away. The third post is somehow a Voo Doo made out of Kendall's hair trimmings. We can tell that her bestie made this. The Hairstylist finally shows Jenner'€™s new hair from a far distance in the Snapchat video. Wow, it's like everyone is cutting or getting something new with their hair. Now who's next?
Slider Image: Instagram Kendalljenner