We Interview Finnish Badass ALMA
She's most definitely not a 'Phase'.
She started out on the Finnish version of 'Idol', then 2016 introduced us to her first single 'Karma'. But it might have been her work with Felix Jaehn, that finally caught everyone's attention as the vocals behind 'Bonfire'. Despite being a big shot name, her songs such as 'Chasing Highs' and 'Phases' that have been everywhere from our airways to Spotify playlists, it's a familiar vibe when we go see ALMA before her gig in Hamburg. Because FYI: ALMA's been a longtime FIZZY follower.
We sat down with the 22-year-old to chat all things Gucci, being star-struck, working with women and of course, what her favorite sneakers are.
So, let's just start with the brightest thing in the room: Your HAIR! Way jealous of your color!
Alma: Thank you, thank you!
Why this bright yellow? And please, let us know your secret to keeping it this bright!
I dunno. My sister did it first - and then I just liked the color too. Never quite understood that it was going to be such a big thing. But yeah, there never was really any reason. It was just cool. Also, it glows in the dark!
As for looking after it. I just use shampoo and conditioner. The cheapest shish if you will. (Laughs)
We also love your style - is it a conscious decision to wear what you do? Or do you just put on anything that you like?
You know, style for me is all about comfort. I don't even really own that many clothes. Just a couple cool shoes, nice jewellery that I wear everyday, my $5 shirts…
Do you have a staple piece that you have to own?
I don't really know. For me it really is just leather jackets, designer sneakers, silver jewelery, any thing comfy — hoodies, t-shirts, oversized stuff. But definitely — it doesn't have to be expensive! I hate when someone is being super 'fashion guru-ey' and all they wear is for example, Gucci or Balenciaga.
Okay hold up - whats up with Gucci? We've noticed that brand keeps cropping up in some of your new tracks such as 'Fake Gucci' and 'Chit-Chat'.
Well, 'Fake Gucci' is about an artist I can't stand. I won't mention the name… But yeah, this person just wears Gucci. And I just think it's not a style - you're just wearing Gucci.
Style for me is also about finding the balance between a few expensive things and affordable stuff — everybody can wear. I like those kind of fashion people.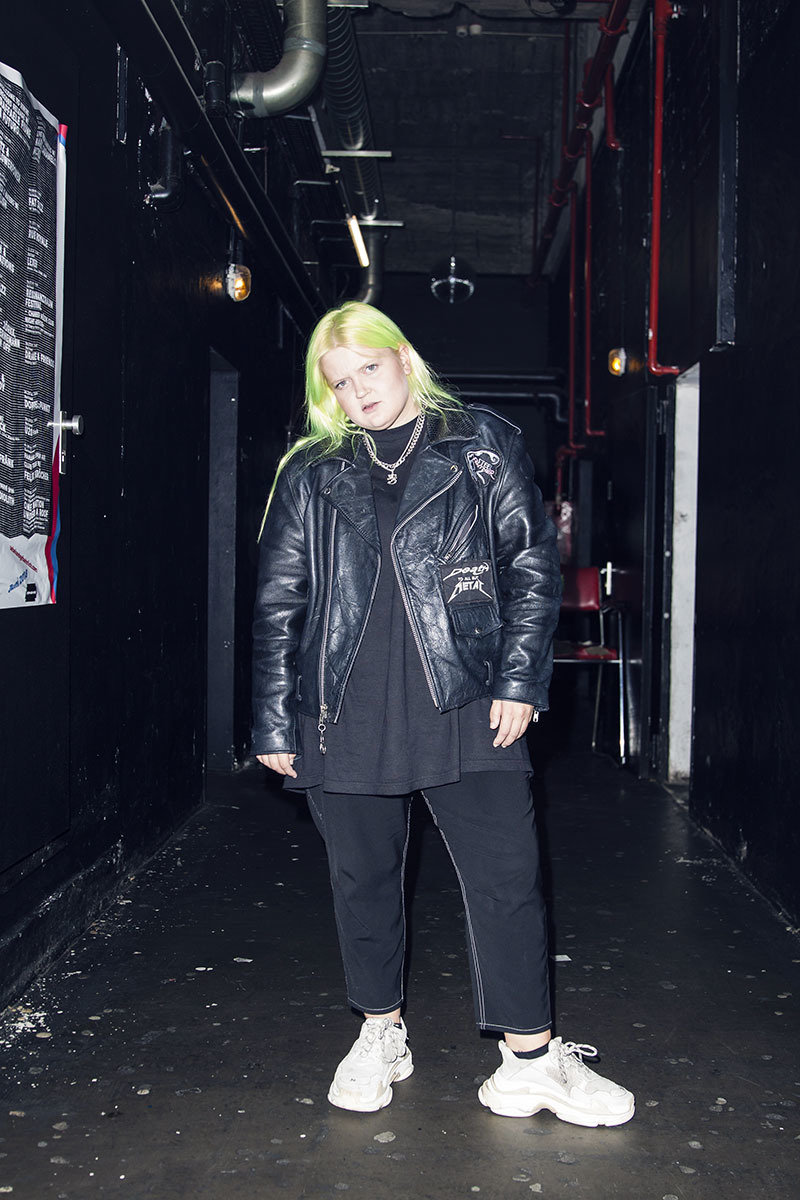 So true. Now back on track. Let's talk sneakers. As you know we're all about that sneaker life. And you've mentioned you quite like designer sneaks. Tell us, how many sneakers do you own?
That's the thing. I have this thing for designer sneakers. But I don't even have that many — maybe like 10-15 pairs.
What's your favourite pair? The one's you're wearing right now? (We've spotted she's wearing white Balenciaga Triple S.)
Yeah, I really like these (Balenciaga Triple S) and then I really like Raf Simmons ft. adidas stuff. But Balenciaga I really like — think I'm going to get these in black. (Points at her shoes)
What do you love about them so much?
These are just so comfortable. They make me a bit taller — which I like. And they're ugly as fuck but they're cool. I do like ugly things. (Laughs)
So would you consider yourself sneaker crazy?
Yeah! They're just so comfortable. I mean, when I was younger I used to wear these long Buffalo shoes. But they're so uncomfortable. And then I started wearing sneakers and was like: "Oh my God. I don't want to change from this!"
Yes! Sneaker life = That comfy life. But let's get into some music too…
Your songs are everywhere! You've just released a new mixtape. You have a song with Tove Lo, Charlie XCX, Icona Pop and Elliphant coming out - (Tove Lo's 'bitches' remix out since 7.6.) It's such a crazy journey these past few years. How do you feel about it all?
Well, a lot of things have happened. I'm very lucky to do what I do. And I'm also very lucky that Tove Lo and Charlie XCX and all these other female artists that I used to — and still do — find super amazing, I now get to work with.
What's the craziest moment you can recall? Is there one?
You know, I have a lot of crazy memories…
You have a favorite one you can share with us?
I do have a favorite one in my mind. But I don't know if I can tell you yet… Okay, let me just say that in the future there's a lot of stuff, crazy things that I'm still a bit like: "Woah! What is going on??"
But I'll give you something. For me, anytime an artist or producer I've looked up to wants to work in the studio with me, it makes me so proud of myself. Because before, I just didn't really take myself seriously as a songwriter because I'm not a native (English) speaker. But now I think I've proved to myself, I was wrong — I can actually write good songs not only for me but for others too.
So you've mentioned you've worked with a few people you've looked up to. Now is there anyone you've been starstruck to meet?
Justin Bieber. I met him at Cochella. Justin Bieber for me is a bit unreal. So when I met him at Cochella, in the VIP area — the artist area — and even the artists and the celebrities there where like (whispers) "OMG, Justin Bieber!". It was just crazy to see that you could be in the VIP and still you need a VIP lounge (laughs). That's a kinda crazy life. And I'm not too sure that's even nice to be honest.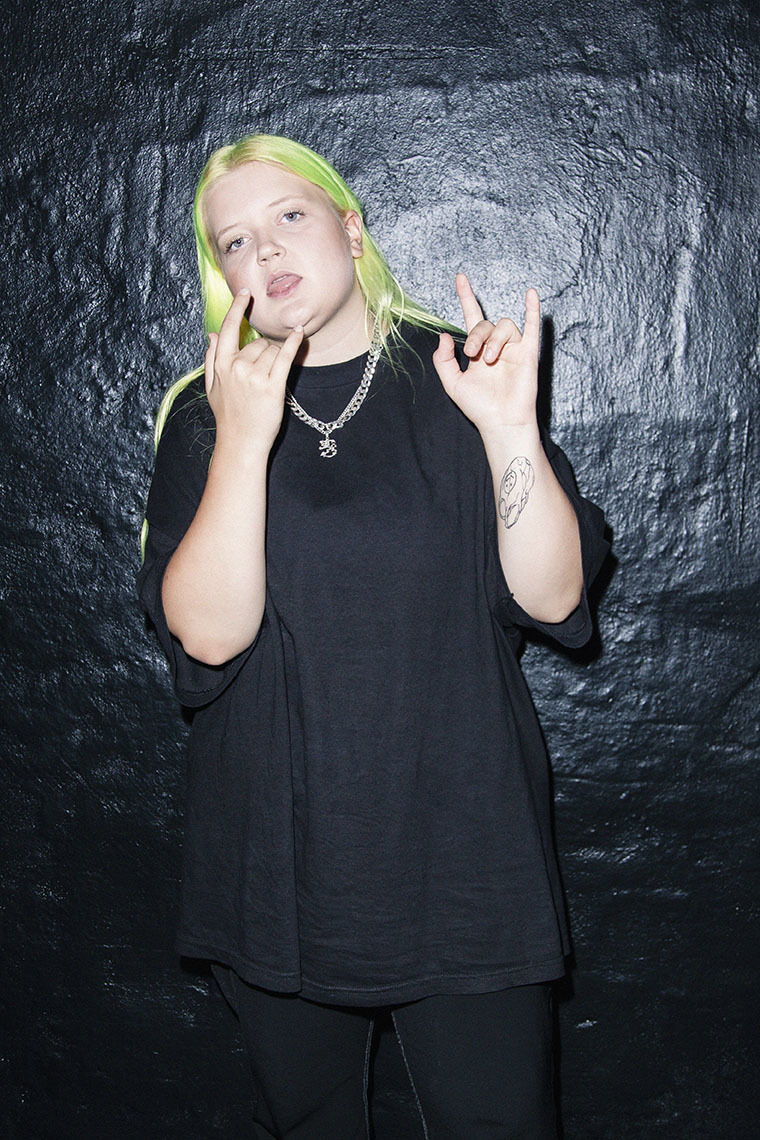 As mentioned, you've been working with so many of my favourite gals in music:
Tove Lo, Charlie XCX, Mø (to name a few). A lot of them are Scandinavian artists. Be honest, are you trying to make a super troupe (pardon the pun) of Scandi-pop?
I connect very well and on a personal level with Scandinavian people. I think that us Scandinavians have the same vibe in our brain because the culture in Scandinavia is so different compared for example to LA. LA can be very fake.
And Scandinavian artists, we struggle with the same kind of subjects. So it's very easy to just go into the studio and make music because we have those similar things going through our heads.
You've been working with a majority of women throughout your musical career. Was that intentional or something that just happened?
I think I'd love to only work with females if I'm honest. It's just very hard for me to sometimes connect with men when I'm writing songs because it's so personal. And even though a man is woke and know's it's 2018 and women can be strong and do [whatever] the f**k they want - as a woman, you see the world different. Because the world is not made for women. But we're maybe slowly getting there.
But I do work with men. My executive producer for the album is Justin Tranter — but usually when I'm working with men, they're gay guys. (Laughs)
In the end though, I think females just know what females want, females know the same struggles and it's just way more easier. You don't have to explain, you don't have to open up, we understand each other.
Is there something in particular you've learnt from the other women you've worked with?
Yes, totally. You have to understand — writing music is personal. At least for me it's very personal. It's like reading your own diary to other people. There needs to be trust. And it's just very annoying when you tell your most horrible memory to someone and they just don't get it.
So, usually when I'm telling a woman what I've been going through, it's immediately: "Oh, I get it! Been there, done that."
Is there someone that's still on your bucket list to work with?
I would love to work with Mark Ronson — the producer who worked with Amy Winehouse. I find Mark Ronson totally inspiring. And I'd love to work Lykke Li. And… every female artist out there! (Laughs)
Now, you've also just recently released new music in form of your 'Heavy Rules Mixtape'. Do you have a fave song from the release?
'BACK2U'. It just gives me a lot of feelings. It's very real. And I was a bit scared to release that song. Especially showing that song to my label guys because it's about me not wanting to be an artist.
So finally, album. What's the deal?
Yeah, it might not come out this year but probably early next year. I f**king promise. I am working so hard on it right now.
Very nice! We're looking forward to it already! Thanks again for chatting with us, ALMA.
Listen to ALMA's newest sounds, "Heavy Rules Mixtape" out now.
Photography: Brit The Kid
Next up, why don't you read our interview with the lovely rap-singing sensation Kah-Lo.
MerkenMerken