We Interview Image Gang Founder Isabelle White
Accessible, trendy and fashionable jewelry.
Image Gang is unapologetically authentic, carving out a space for itself and accessible, trendy and fashionable jewelry. The brand, which has gone from strength to strength over the past few years, has been worn by the like of Maya Jama and Stefllon Don, partnered up with names such as Nike and Puma and been stocked in ASOS, Urban Outfitters and other outlets, both across the UK and beyond. We spoke to founder Isabelle White about the journey to creating the brand, what Image Gang means to her and her vision for the future.
Who for you was your biggest role model growing up and why?
Growing up, as a child, I guess it would have to be my mom - she didn't work when I was very small and then she went to university and she got a degree when I was like 11. She was diagnosed with cancer and died when I was 15 but she still worked hard to get her degree, even though she knew she was never going to be able to work. Looking back, that's been a huge inspiration for me and she was a massive role model. When I found myself getting into business and knowing how much determination and drive it takes, that's when I've been able to draw on it and it means everything, it's what gets me out of bed in the morning. For me, I know she wasn't alive for very long so I have to make sure that I live a life in a way that means that her life meant something - I'm testament to the time that she was here, that's my motivation.
How did you start off making jewellery and creating your own brand?
I was working at a logistics company as a market manager and sadly found out my Grandma (who had been looking after me since I was 15) had been diagnosed with breast cancer and it was terminal. So I was in this job, scraping pennies every month and not having enough money. So I remember driving home one day and just thinking that if she is not here for me, I'm fucked so I need to pattern up. The only way I could think to do that was to start a business.
It had always been this thing to me where I wasn't able to find the jewelry that I like to wear unless it was real gold or it would be an imitation from the high street. So I saw this gap in the market coupled with a need to look after myself, and also because I was working for a logistics company, they were getting imports from China so I got a bit of sight into that. Those three things together gave me this window of opportunity to try it and give it a go. I haven't got a background in design or jewelry or anything like that but knew I had to try. From having the initial idea in March 2017, we officially launched on July 1st 2017.
A lot of what you needed to learn, you taught yourself, from designing and manufacturing - do you think that there was enough support for you at the beginning and what were the biggest challenges/barriers in the first year or so?
There probably was but I think with the way I am - I don't really look for help and I was just going into it all guns blazing. Obviously my friends were a huge support to me and having them for reassurance was a big thing. Self-doubt was a huge challenge because I remember getting these moments where I thought "fuck, I've put everything I own into this and what if it doesn't work" and moments like that can be paralysing. Further down the line, it was about learning more about business and understanding cash flow - I didn't even know you couldn't take money out of your own business. There were definite hard times but that was down to my inexperience and naivety. However all these things showed me how important it is to be responsible and honest with yourself.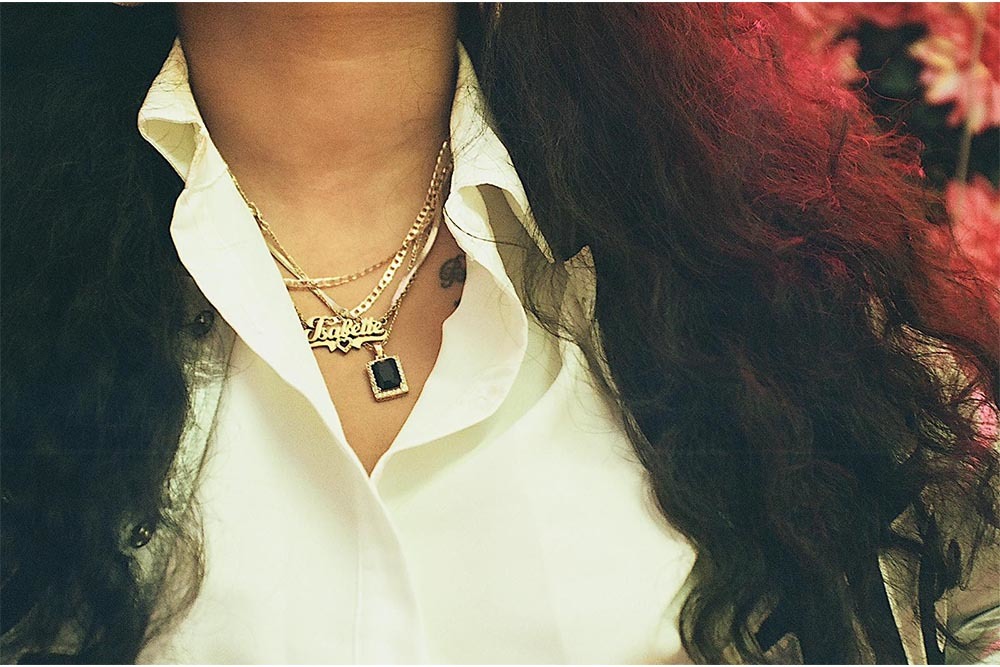 How would you describe the aesthetic of Image Gang for someone who had never seen one of your pieces before?
It's quite nostalgic and has definitely got origins in black and ethnic culture. I think it's unapologetically for its audience,it's not bland in any way and neither are the people that wear it. The aesthetic is for who it's for and if you don't like that, then you're probably not gonna like the jewelry, and I don't make apologies for that. I understand that some people might feel alienated by the aesthetic but it's not trying to exclude anyone - if you feel uncomfortable with that, then you're probably best of shopping somewhere else.
With developing the brand, it's definitely a priority of mine to know who my customers are because up until this point, I've always just had myself and my peers in mind. If you go and look at tagged photos of the brand, that's not who I ever imagined would be wearing it so it's about understanding how it appeals to those people, identifying them and being able to speak to them. I really want to understand who Image Gang is and make sure I'm doing things for them.
What has been your biggest achievement to date with the brand?
Honestly, I think being here today is a massive accomplishment. I still completely own 100% of the brand, have not any actual debt and have got the business through a global pandemic. When I started I was doing it from my bedroom and then my grandma got sick and I had to move in with her into a care home so I was literally sending out stock from an old people's home. They evicted me when she died so I was juggling a lot - so to go from that to where I am now, stocked with a number of brands, moving into a new warehouse, it's amazing.
How much do you think jewellery is part of someone's identity and personality?
For plus size girls like me, I had friends who would go and shop at Jane Norman but I couldn't because they only went up to size 14 so my thing would always be jewellery. I think for a lot of like bigger girls, jewellery has always been their way of inclusion and staying relevant with style. With jewellery as well, there can be an heirloom element so it can be passed down and tell a story. That's why we have the 'Create Your Own' collection, with the changeable charms which I think speaks to people's identity. You might want to wear a personalised name plate necklace for someone you love or to remember someone who has passed away. It's a reminder that you can wear on you constantly.
During the lockdown earlier this year, did you find that it impacted your creativity and if so/not, why?
I usually travel quite a lot so to just be staring at the same four walls for four months, it was difficult. I take a lot of inspiration from my culture and cities like LA, Miami and New York so not being able to get out there actually forced me to look backwards and more introspectively. A lot of inspiration I got this year was from the Argos Catalogue so I actually downloaded all of the old catalogues from 1990-2000 and took inspiration from my childhood and past. We have some creole hoops on our site which look like ones me and my friends had in school and they have been our best seller this year. Lockdown definitely had me looking into the archives rather than seeking new inspiration.
You've currently got Image Gang stocked at places such as ASOS and Urban Outfitters - was that a goal for you to work with big brands or was it something that happened quite organically?
I've not ever approached a wholesaler and to an extent, the relationships have always built naturally. Obviously you want to be in with those big names and I definitely think it's a good look for the brand. I think that because of the aesthetic of the brand, I don't want to dilute that so have previously turned down working with wholesalers as overall, it's not worthwhile. You can go down this wholesale model and just get it everywhere but for me, there's more value in maintaining and building the brand and holding out for a better deal in the future.
A few months back, you made a video addressing another brand who had called you out for stealing their designs which eventually led on to a discussion of race and culture and the ongoing appropriation of the black community by mainstream media and fashion. Did this experience surprise you and what do you want people to take away from what you were saying?
It was surprising but even before I had a chance to get involved, the comments were popping off and people were backing it and understood. They are a white owned brand and are selling nameplate jewelry which is so intrinsically linked to black culture and in a way claiming that it was something they had created, which is what didn't sit well with people. By addressing it publicly, I just wanted to clear the air but it was great to see the support we received and also had our busiest day of sales. I didn't expect it to turn into what it did but I'm glad people understood the bigger picture and it showed me that people do care about me and do care about Image Gang and that I do have a voice within the brand.
Do you think more conversation is needed about appropriation of certain aesthetics and culture?
I think obviously, with everything that's happened this year, it has made the subject very hot to people and I think, maybe if this happened last year, maybe people wouldn't have jumped on it so much. I think people are very sensitive to it at the moment. I wrote a blog about the whole experience - and you've got Moschino bamboo earrings selling for £600! Cultural sharing is an amazing thing but it's just important that you're educated on its origins.
I also recognise the privilege that I have being mixed race. All those privileges I have inherited from my white family, I have used that to create this brand while taking from my black side and now I'm selling it to a load of white people. So from that perspective, I feel like it's my job now to educate people at any opportunity of where it is that this stuff comes from, what you're wearing and the wider landscape that you're representing when you wear this kind of jewelry.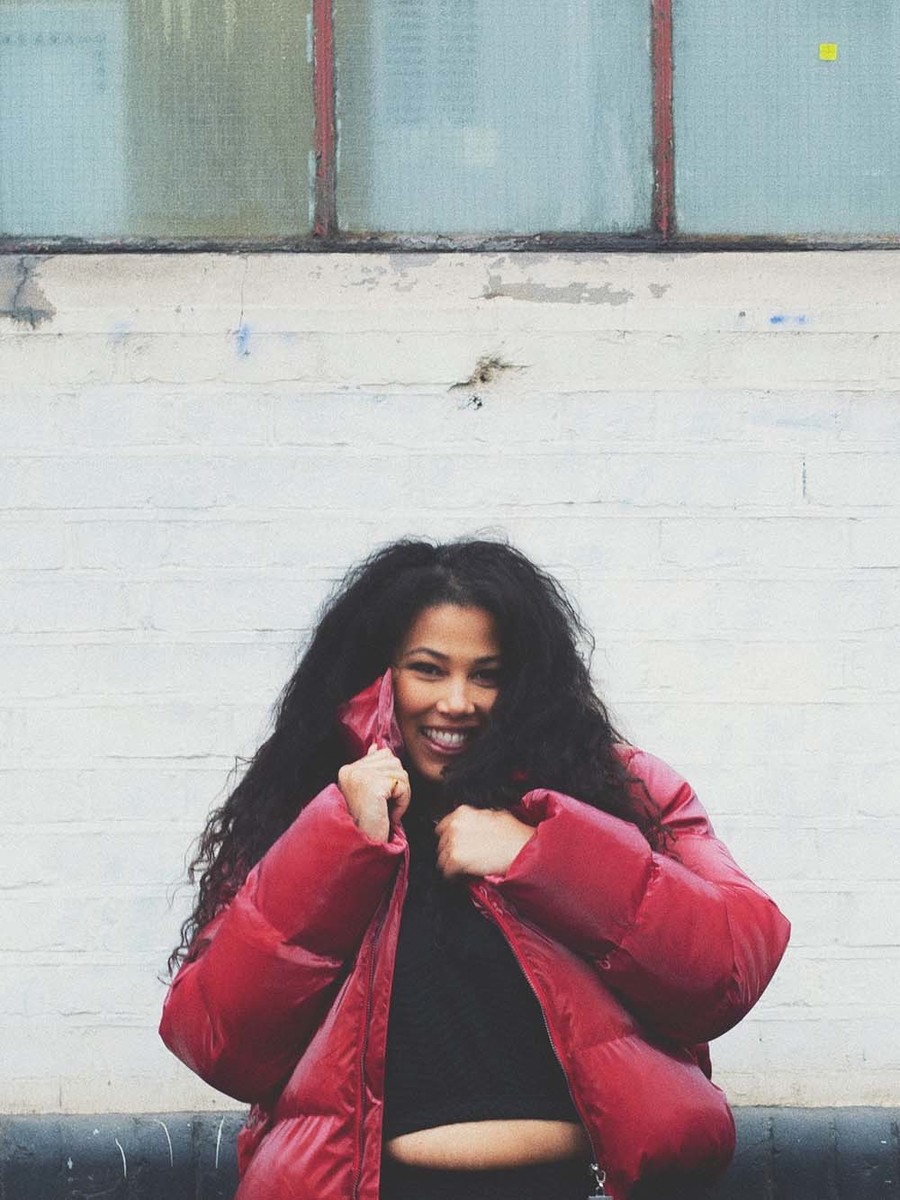 You've previously spoken before about your desire to give practical advice and resources to young women who wish to get into business - why do you believe that this is so important and what things have you got in the pipeline?
I don't remember ever seeing someone as a role model to me in terms of business or branding, there was just no visibility. Even now, the only people that I would really look up to is someone like Sharmadean Reid or Oprah. It's about showing people that you can look like me and still occupy spaces that you might think "aren't for you". So I'm trying to start this event called Seat At The Table which will hopefully get going in the New Year. By putting myself out there alongside the brand, it's great to see young women messaging me looking for advice, mentorship and guidance.
Your latest collection, CURVE celebrates inclusivity with plus size jewellery. How much did putting this campaign and collection mean to you and do you think other brands and labels cater to a plus size audience?
For me, it was mental to get the models together to do the shoot and it's great as it touches on what jewelry means to them. At the same time, I didn't realize how much it was needed; but hearing their stories actually really moved me and then receiving messages from girls who said they had been waiting for something like this and thanking me meant so much. It means alot to me and I'm really excited for it. For other brands, I think the sizing is there but representation within their branding and marketing is either not there or not a realistic portrayal of plus size women. Even when we were shooting the video, we purposely wanted to use a wide-angle lens and lower angles to make the girls actually look bigger and exaggerate it.I've never seen girls that size ever be photographed in that way before and I'm proud that I've been able to create that and for people to see people that are that size to be able to see themselves in that way.
Moving forward and looking ahead to 2021, what did you want to say you've achieved in the next 12 months
I've just been trying to get through this year and haven't even thought about the news year. I would really like to get Seat At The Table Started and just continue what I have been doing; still be in business, still be happy and content in what I am doing and know that I doing the right thing. And maybe being in Selfridges.
Follow Image Gang's journey on Instagram @imagegang and shop stock via ISLA Berlin.