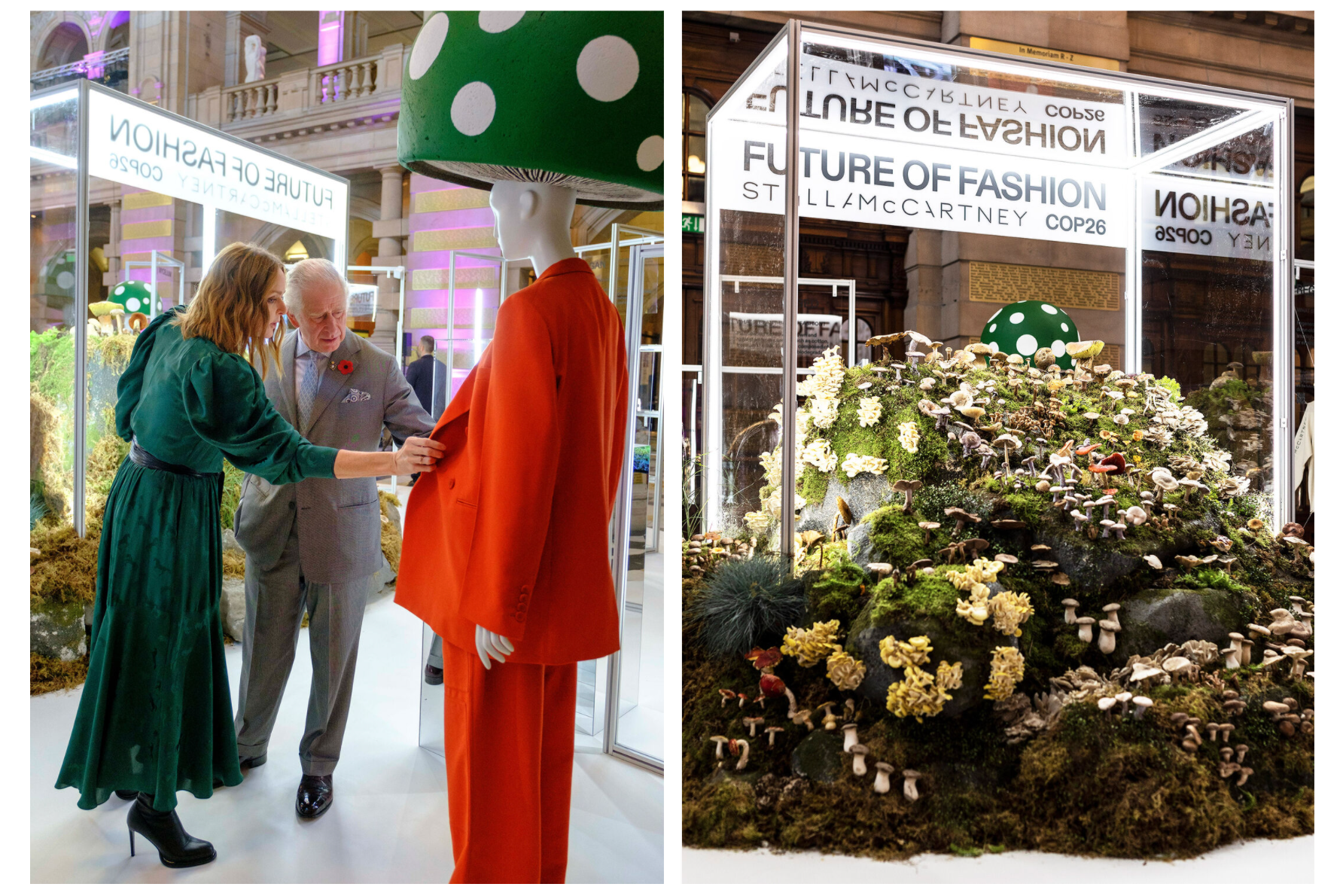 Future Of Fashion: An Innovation Conversation With Stella McCartney
The designer showcases her mushroom-based leather alternative and other innovations at COP26.
COP26 is the most crucial climate summit since the 2015 Paris Climate Accords. The conference kicked off on Sunday, Oct 31, and will end on Friday, Nov 12.
Stella Mccartney and her team attended COP26 representing the fashion industry with a traveling exhibit, "Future of Fashion: An innovation conversation with Stella McCartney."
Their mission is to showcase the limitless possibilities of material innovation. The brand stepped on the COP26 global platform to display its current achievements to inspire future actions, from private investment to government incentives for nature-positive solutions.
The brand's first innovation is a vegan leather alternative named Mylo, made from mycelium, the regenerative root system found in mushrooms.
Mccartney's goal is to end the use of animal leather and fur in the fashion industry by creating environmentally-conscious alternatives.
To back up her ambitious goal, Stella McCartney is seeking 5,000 signatures on her petition, a collective action during COP26 to combat the climate and biodiversity crises and to end the use of animal leathers and fur.
The brand is also opting to use regenerative cotton, which uses less water than industrial methods and prevents local communities and species from harmful chemicals and poisonous pesticides. The use of regenerative cotton restores critical habitats, benefits biodiversity, and improves soil health.
Another innovation is their forest-friendly viscose, made from wood pulp. The brand has used this fiber in its collections since 2017. If achieved globally, regenerative systems can drawdown more than 100% of current annual CO2 emissions. Sustainable viscose ensures that no deforestation occurs – meaning no ancient or endangered forests are destroyed, and the welfare of workers and local communities are protected.
Fashion has long been wasteful. Regenerated fibers and vegan leather alternatives like Mylo will allow the fashion industry to deepen its commitment to a circular economy. The path to environmentally conscious, sustainable, and ethical fashion is clear. It's up to each brand to make ambitious commitments and ensure that fashion has a bright future.
Up next, How The COP26 Climate Talks Will Hopefully Change The Fashion Industry For The Better