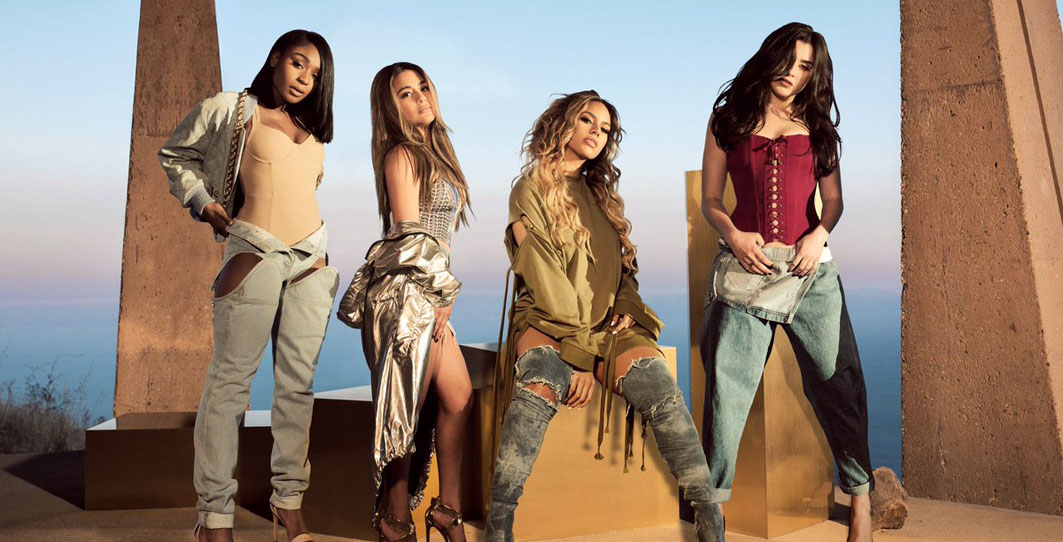 Fifth Harmony Reveals Their Post-Camila Single, "Down"
Featuring Gucci Mane.
We all remember how it went down for Fifth Harmony last December when Camila Cabello left the group. This abrupt exit left the world stuck— how could she leave the group and go solo?! But her abscence didn't stop the ladies. The girl group performed "Work From Home" at the 2017 People's Choice Awards, where the intro started, "We ain't worried 'bout nothin'," clearly telling Camila that they are better without her. Now, the girls are back and better than ever. Harmonizers, prepare yourself for their new single "Down."
Fifth Harmony, now as a quartet, released the single just before midnight that tells harmonizers as long as they holdin' the group, they will keep lovin' them down. The single has a similar beat to "Work From Home" but features rapper Gucci Mane.
The urban drum beat makes you want to move your hips, while a pop and rap verse make you want to sing along. This single is certainly a stunner, and it's part of their upcoming album. In the hit, Lauren Jauregui has a long intro (finally, she gets to sing!), and then Dinah Jane follows with her impressive voice. "Long as you're holding me down, down, down," the chorus hums. Later, Gucci Mane comes into the mix, rappin' about relationships like Bonnie and Clyde, and this guest feature takes the song to a whole new level of catchy.
Well played, Fifth Harmony! We'll have this track on repeat all day. Extra bonus: the album cover of this single is on fire!
And check out the quartet on the June cover of Cosmopolitan Latina.
#DOWN ft. @gucci1017 out now ⬇️@iTunes: https://t.co/ySK53IoHJg@AppleMusic: https://t.co/UizO3ZNDCF@Spotify: https://t.co/mDBOfsAnRc pic.twitter.com/fHumd0s81y
— Fifth Harmony (@FifthHarmony) June 2, 2017
Find the final @snapchat filter, take a selfie, tweet it using #5H3 and you'll be entered to win 1 of 10 pairs of VIP tix to @GMA tomorrow. pic.twitter.com/eafvcsE3A3

— Fifth Harmony (@FifthHarmony) June 1, 2017
Tune in to see us perform our new single Down and Work From Home tomorrow on @GMA 📺 #5HonGMA pic.twitter.com/wNouRcjk3T

— Fifth Harmony (@FifthHarmony) June 1, 2017
Preview image: galoremag.com