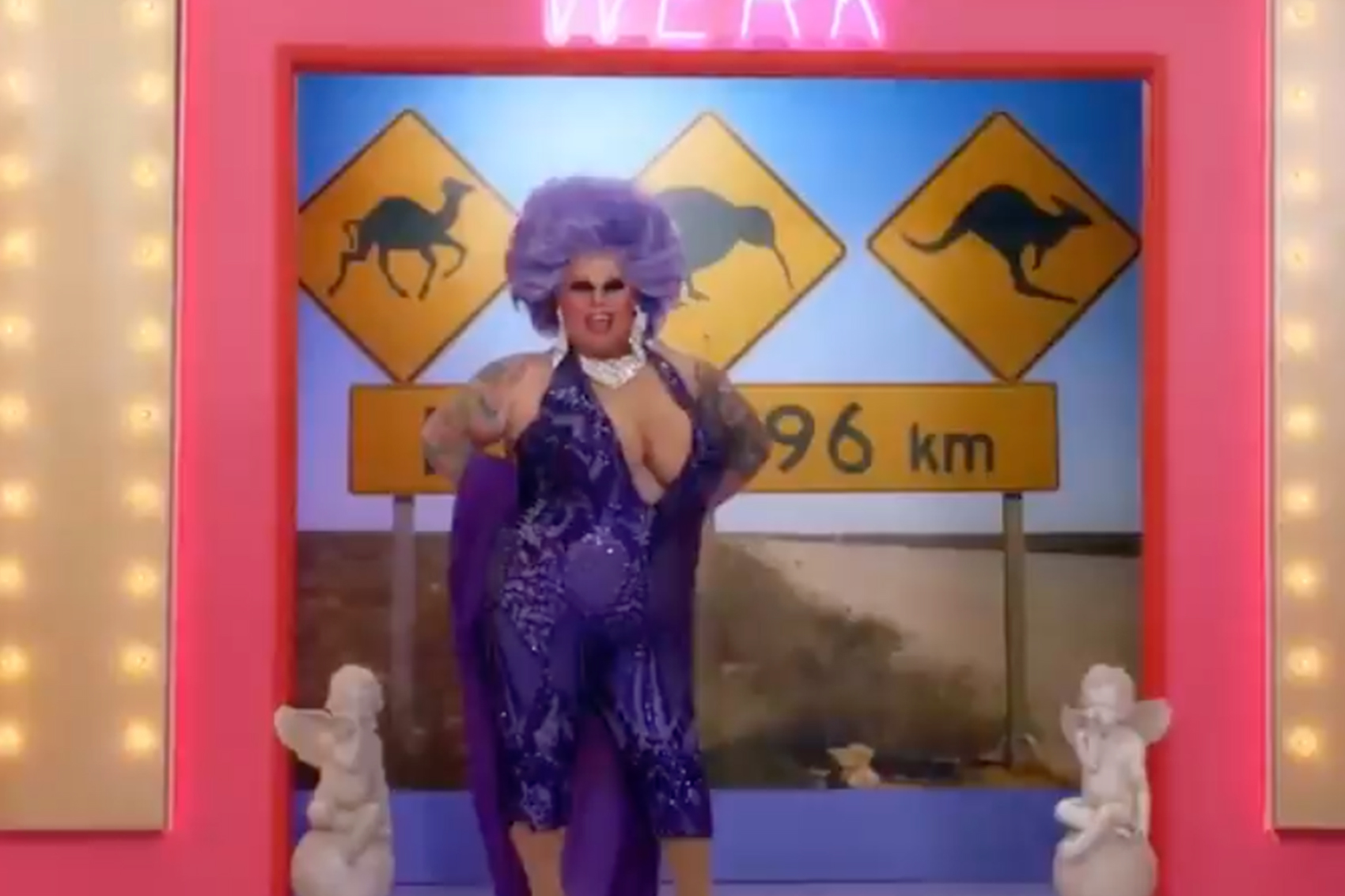 Fans Think RuPaul Isn't Actually Down Under
The series premiered on May 1.
This article contains spoilers for RuPaul's Drag Race: Down Under.
Fans of RuPaul's Drag Race were thrilled when the series spawned several international versions. Drag Race España is hitting our screens any day now, while the UK version was so popular that it's resurrected the BBC3 television channel. Bless.
The latest incarnation to air, Drag Race: Down Under, has already had several shocking moments in its short lifetime. Since airing on May 1 we've seen Prince Andrew jokes from a queen cosplaying as - well - Queen Elizabeth II, Kylie Minogue (obviously), and a Lip Sync For Your Life to Tragedy by the Bee Gees.
But eagled-eyed Drag Race fans have noticed something strange behind all the sequins and wig glue. They've proposed that RuPaul, the show's host, isn't actually Down Under.
Ru has hosted every Drag Race series, excluding Canada's Drag Race and Drag Race Holland. Many were surprised that he chose to host Down Under, considering that the show was filming on the other side of the world.
This, plus the lighting and angles on set, has left some fans speculating.
"There are no scenes where you see queens with Ru," noticed TikTok user Abbie Chatfield. "I've clocked three times where queens say, "I can't believe I'm talking to Ru Paul!". That to me says, a producer says "Right, we're going to edit this because of Covid, obviously."
90 Day Fiancé star Erika Owens, known as @glitterbuggin online, added fuel to the fire with her speculation that Ru was standing in front of a green screen.
Thankfully the latest Down Under eliminated queen, Art Simone, took to Twitter to quash the rumors.
Just here to quash the rumours that RuPaul was green-screened onto set. There's no way we would have the budget after we splurged on those beautiful cement cherubs 👼

— Art Simone (@ArtSimone) May 11, 2021
It's fair to say that some of the awkward angles, and the fact that you rarely see Ru in the same shot as a competitor, maybe due to the Covid-19 measures put in place on set.
Whether RuPaul is there in person or not, we can all agree that Art's elimination was one of the shocking moments of the franchise. And we're only on episode 2.