1 2 1 With Dreya Mac: London's Rising Rap Prodigy
We chat with the blossoming artist on TikTok success, Reading Festival, her new project and much more.
Effortlessly exploding onto the scene out of nowhere, Dreya Mac is here to stay. Drawing her own seat at the table, the multi-faceted artist is paving the way for a brand new generation of liberated and unapologetic artists, creating both tangible and meaningful content. The insanely infectious sounds of the West London native began to gain traction online during the UK's 1st lockdown in March 2020, with her debut single 'Skippin' dropping a month later in April. Fast-forward a year later, several more singles and plenty more viral TikToks (if she's not yet popped up on your TL, you're on the wrong side of the app), Dreya's COLORS show dropped, showcasing her impeccable flows, untouchable steez and mesmeric personality.
After studying musical theatre and dance at London's world-famous Brit School from the age of 14, Dreya's professional dance career took off to compete in China and the US, whilst also featuring in several high-profile music videos including Stormzy's Vossi Bop and Kojey Radical's "Can't Go Back." And TikTok is no exception to Dreya's hypnotic talents. @DreyaMac has racked up an impressive 30 million likes on the app, as the artist continues to set trends on social media with both her dance and tunes alike, fast becoming one of the platform's biggest content creators.
Who would you cite as your musical influences? What sounds did you grow up on?
I grew up on R&B, Garage, Grime and Deep House pretty much. My music influences are Little Simz, Tierra Whack, Busta Rhymes, Timbaland and Missy Elliott.
You performed a mad set at Reading Festival over the summer. What can you tell us about the experience?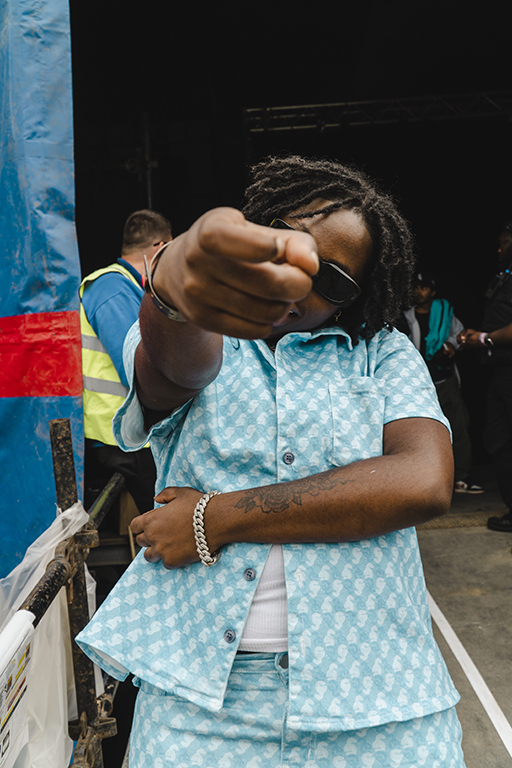 Reading Festival was a life changing experience... it introduced me to what is about to come... the energy, people singing my songs back at me. It was crazy. 'Use Your Body' dropped 1 hour prior to my performance and they were all singing it back. I met a lot of people I respect in the industry. I met my idol Little Simz. We watched my COLORS together and she shared words of general advice to do with music.
Do you ever get nervous to perform?

I rarely get nervous, but they are usually good nerves.
You've been blowing up on TikTok for a minute now. Why do you think the platform has become so addictively engaging?

It's engaging because there is finally an app where you can be wholeheartedly yourself and relate to the masses. It's an app where you can show your day-to-day life and I feel like anyone with an interesting life can be successful on the app.
You've previously mentioned you used dance as a way to communicate instead of words. What is it about dance that makes it so expressive?

Dance is music in physical form, it's pretty self-explanatory, it's a way to express what is being said in the music through your body. For example, when I'm feeling sad I put on a dark song and can express myself better as the feeling of the song is more emotive.
Your new Afrobeats-infused single 'Use Your Body' combines buttery vocals, dance, and the catchiest hook ever. What can you tell us about the creative process of the tune and its visual?
When creating this song, co-written by my big sister, our whole process to begin with was just humming and singing over the top of the beat to create the melody. Then we got to writing. We naturally just bounce off of each other's ideas and we really work well with the same formula when approaching these kinds of songs, so it was quite easy.
You've said you began to take rapping seriously in Lockdown 1. How does it feel to have made such massive strides in such a small amount of time?
It's quite overwhelming to be fair to have had such a big change in my journey in such a short amount of time. It's a lot to adapt to and I feel like sometimes I put way too much pressure on myself when really I should just treat this craft how I have treated any other craft previously, and understand and accept that I have just started and I have so much further to go.
One gotta go. R&B, Drill, or Hip-Hop. Who you dropping?

I say Drill, just because I feel like it's dying out already... The way music works is that there is always one particular genre that is trending at the moment (in the UK anyway). I feel like a couple years back it was Afro-swing that was dominating the charts. Right now, we have Drill dominating the charts but it's starting to get a bit gimmicky... I feel like Hip-Hop and R&B are so timeless and have been forever that I couldn't boot them off!
Where do you see yourself in 5 years' time?

In five years I see myself touring the world... tired, exhausted as hell from touring but at the same time so full and thankful.... I see myself with at least three albums out and as a world-renowned entertainer.
Your debut EP 'TWENTYONE' dropped last month. How did it feel releasing your first body of work out into the world?
Do you know what, I feel like I am my biggest critic. So I'm always going to be looking for what I could have done other than what I already have. But for some reason with this release I was very much okay and at one with what I had produced. Having a body of work out there only furthers my career and I feel like it just shows how determined and busy I have been since lockdown started. I feel like I've made my stamp on the scene and it's just an introduction to order different projects I have coming up now and in the future.
Dreya Mac's debut album 'TWENTYONE' is available now on all streaming platforms. Go get dat.