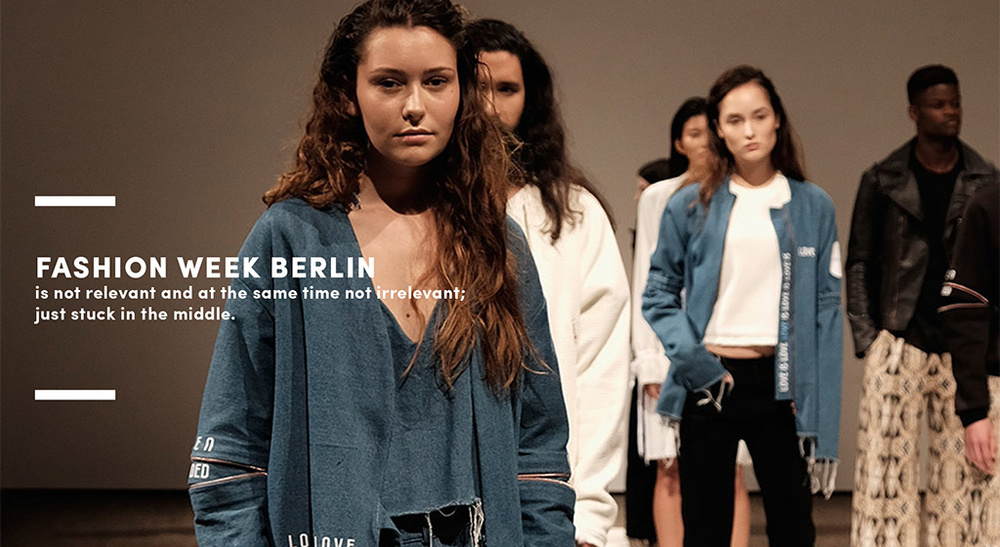 Is Berlin Fashion Week (Ir)Relevant?
Berlin, Berlin, Berlin.
A fashion week that is not relevant and at the same time not irrelevant. It's just stuck in the middle (and every business/economy student knows that this is the worst position ever) and we think it's time to make a marketing plan to make it more attractive to the international fashion scene. Although MBFWB is in it's core super international. And labels like our top 4 make us not want to give up on this certain week.
1. VEKTOR
VEKTOR provides womenswear, menswear and most important unisex styles within an urban look. The label offers sportive elegant and modern styles as well as high quality basics. Note to that all denim outfit: we see you!
Mercedes Benz Fashion Week – Vektor SS17
  Video
Images:Â fashionweekberlin

2. VANESA KRONGOLD
We were blessed, impressed and not stressed. We need more of this. A lot more.
Mercedes Benz Fashion Week – Vanesa Krongold  SS17
  Video
Images:Â fashionweekberlin
3. ODEUR
This label was founded in Stockholm in 2006 as a brand experiment, using a specific white, light and clean scent instead of a visual logotype to label the graphic and dramatic, yet playful garments. The first collection included a few t-shirt styles that where distributed amongst a few initial clients in Sweden and Japan. And now Berlin Fashion Week is not the same without ODEUR.
Images: fashionweekberlin 
4.IVANMAN
The designer Ivan Mandzukic (in case the label name IVANMAN didn't make sense to you, now it should) is bringing colourblocking into SS17. That's actually his signature and he keeps on giving his style, which is more on the classical look kind of side a more colorful twist.  The pink is everything these days!
All images courtesy of Ivanman