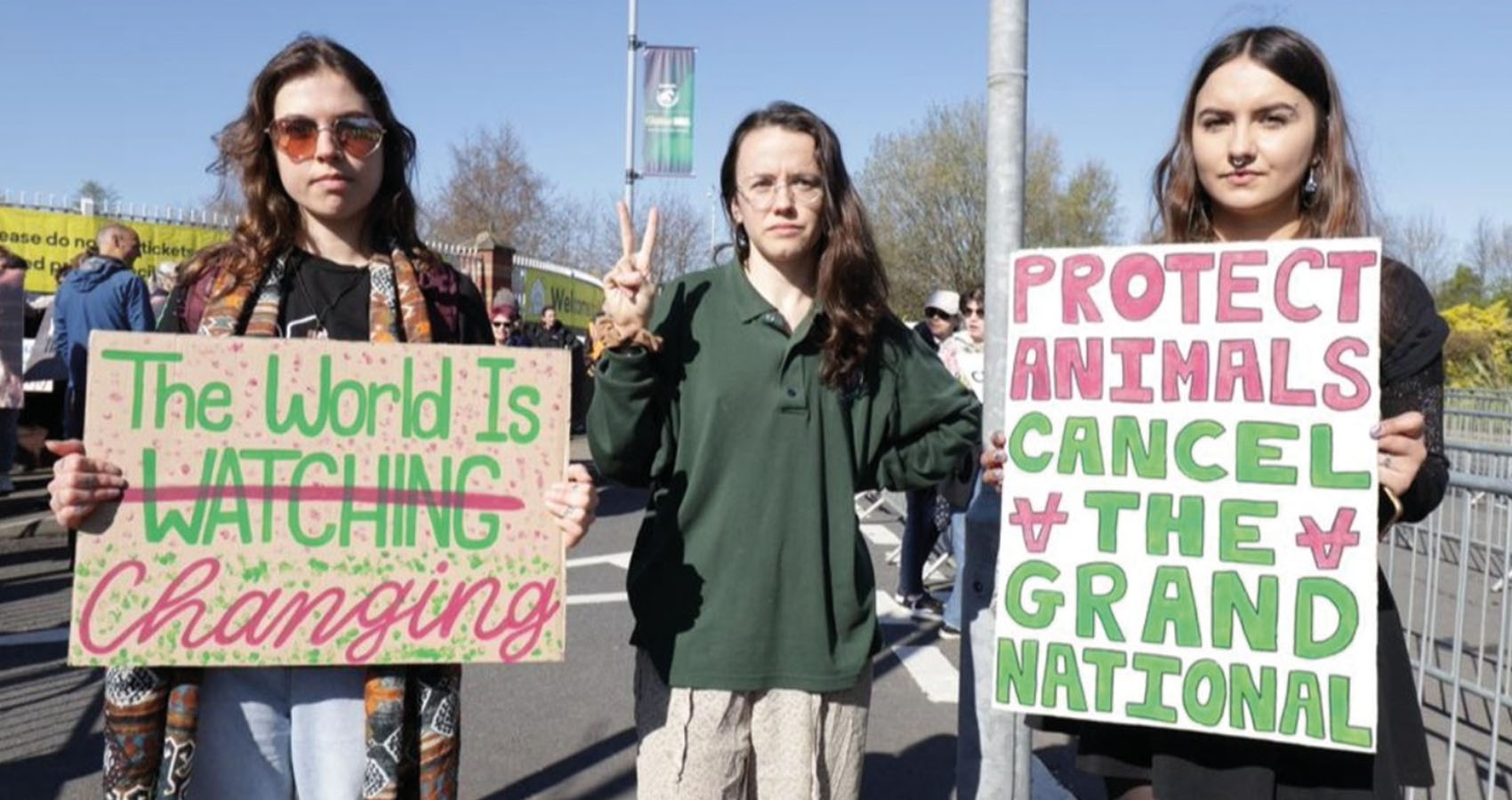 Animal Rights Protests To Abolish The Exploitation Of Horses
Peaceful protestors took to the Grand National racetrack.
Animal Rising arrived at Aintree Racecourse to put a stop to horse racing, and the 2023 Grand National. The peaceful protest started in the early hours of the morning, and continued until after the race. The protestors lined the entry gates of the racecourse, holding signs and singing rhymes that pleaded for the end of animals being used in the entertainment industry.
Before the 17:15 race began, many protestors were spotted climbing their way onto the tracks. Nine people managed to get onto the track, standing peacefully to raise awareness of the cause and to stop the race. Soon after, 23 people were dragged away and arrested by the police due to "disrupting activities." Overall, over 100 people were arrested for protesting for animal rights. The race was delayed by 14 minutes. The protest was named "the biggest campaign of animal-focussed actions the UK has seen for decades," using one of Britain's most popular sporting events to highlight the "broken relationship" between animals and humans.
Three horses have already died, so far in this year's Grand National. Hill Sixteen was euthanized after breaking his neck, in a fall on Saturday afternoon. Envoye Special was put down, after suffering fatal injuries during the Foxhunters Chase at Aintree. Dark Raven was also put to sleep after a fall.
Animal Rising have recently revealed that "49 horses have already died or been killed so far this year due to horseracing: this is unacceptable. We are a nation of animal lovers – we shouldn't be harming animals for entertainment, food, or any other reason. It's time to create a kinder future."
@animal.rising uses their Instagram platform to educate people on the brutality of horseracing and the harsh exploitation of animals for entertainment and food.
The group are asking supporters of the cause to sign the petition: 'Protect Animals: Cancel the Grand National.'